WHAT WE OFFER
ALWAYS INVOLVED IN 100%
In the SPORT section you will find a description of the halls and roofings over the football fields and tennis courts. Air domes (balloons) are an ideal solution for winter roofing of small sports fields,, full-size football fields, several tennis courts as well as of all kinds of sports facilities. It is a great all-year-round solution to cover a tennis court or a small football field.
Grimar Sport
In the AGRO section, we have collected information about arched roofs mainly used in agriculture. These are usually facilities such as: log halls, cowsheds, riding schools, composting plants. They are characterized by standard solutions, they are also quite cheap to produce for the purpose of lightweight warehouses and hangars.
Grimar Agro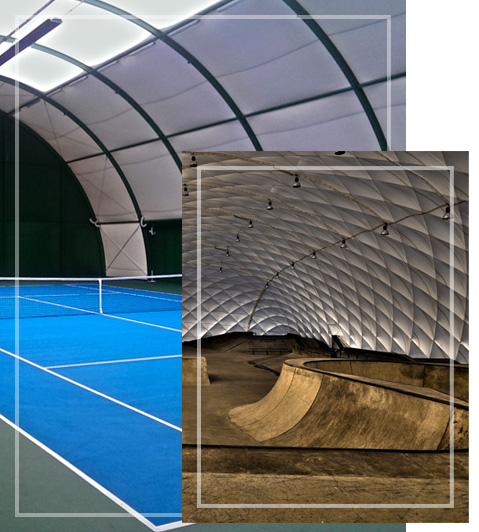 GRIMAR
Learn more about us
Sports construction – halls and sports surfaces
We carry out comprehensive implementation of air domes, lightweight industrial tents and sports surfaces – from design to assembly. High quality, professionality, experience, competitive prices – this is the reason that we work succesfully with several sports centers in Poland.
Our qualified and experienced staff is always at your disposal, providing a specialist advice.
We invite you to get familiarized with our offer. Take a look at our realized projects and at the companies we have cooperated with. If you have any questions, feel free to contact us.
See it yourself and ask for the offer. We'll do our best to earn your confidence!
OUR PROJECTS
EXPERIENCE & RELIABILITY