About
arched halls and industrial tents
Tarpaulin halls as arched halls and tent halls
ARCHED HALLS
it's the cheapest solution for year-round covering of a tennis court or football pitch. A double-layer-coating (air bag) increases the thermal insulation of the hall. Sliding shutters improve a good ventilation and cool the hall during hot periods. Arched halls allow a comfortable use of the tennis court or football field during 12 months in a year. It can be installed over an existing tennis court or footbal field without damaging the existing surface.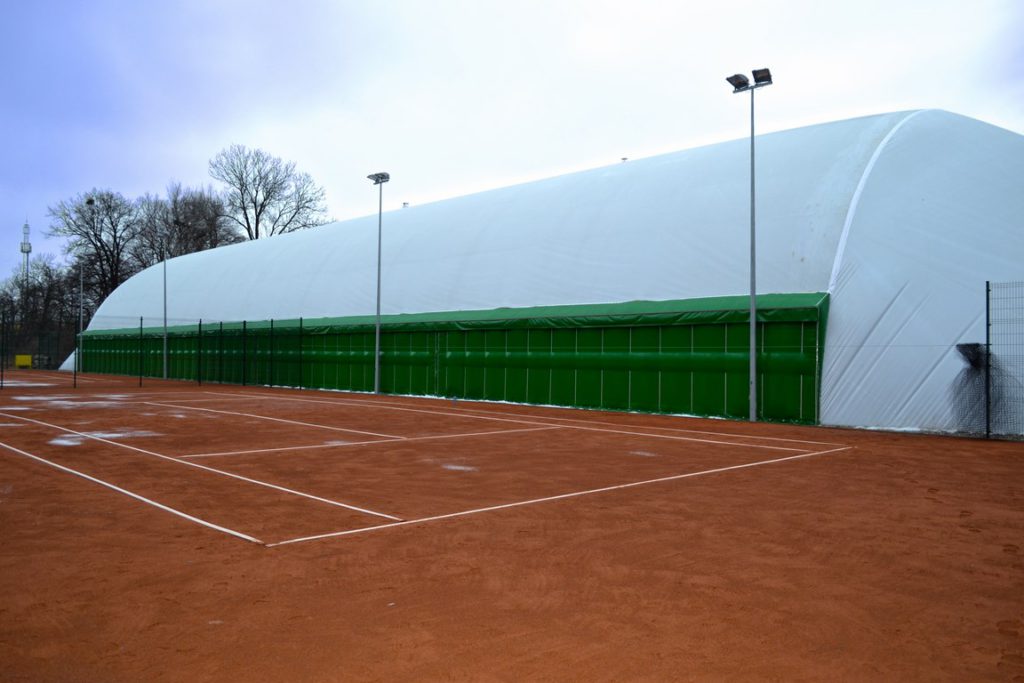 Similar structures – tarpaulin halls – have been installed for many years in the tennis clubs. The construction of a covering for a tennis court allows its use without winter breaks. It also avoids to cancel activities due to rainfall.
Our projects are basically focused on the construction of halls over tennis courts and football fields. Nonetheless, this solution may be applied to cover any sports surface, including multipurposal facilities.
.
.
INDUSTRIAL TENTS
lightweight steel or steel-aluminium structures, usually with a gable roof  with the pitch angle of 22º-30º.  They work perfectly as storage facilities without the heating, temporary tents, exhibition pavilions or as covering of sports facilities. 
The structure of the walls and roofing is based on aluminium profiles with the connecting elements made of galvanized steel.
The coating of walls and roofing is made of PVC-material. It's fixed on structural profiles with a special soft tape, which is inserted into the longitudinal slot.
This type of structures can be fixed permanently in the ground (and hence used as all-year-round-buildings) or erected temporarily for the period of 180 days. Industrial tents provide protection against atmospheric conditions. The heating and lighting provides the necessary comfort of use.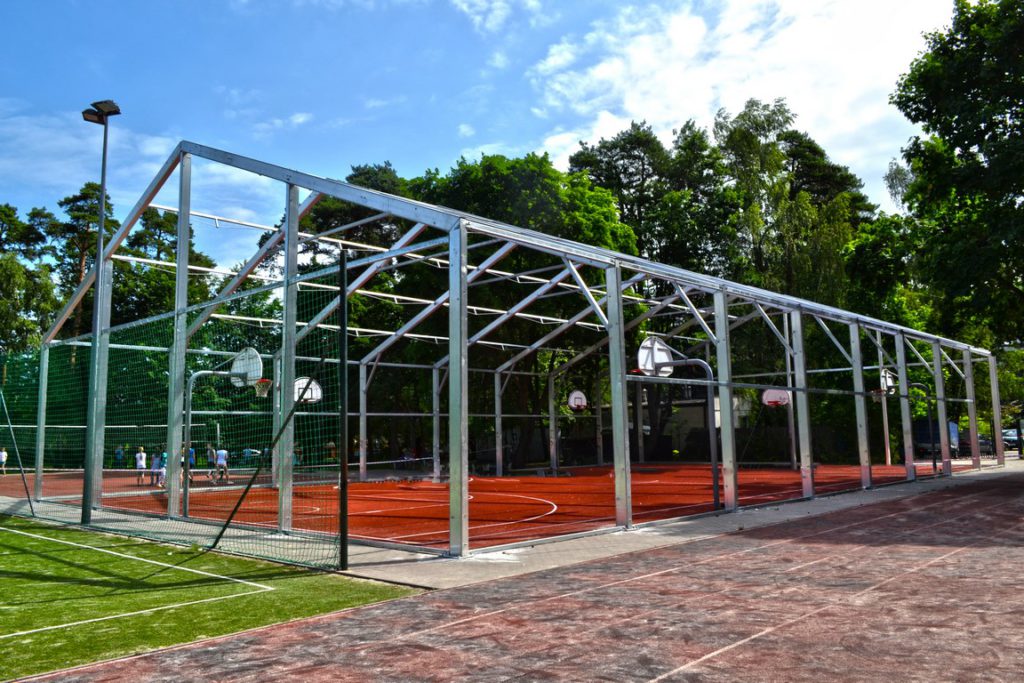 .
 .
We produce ligtweight sports halls from the first design into final assembly. As few in the market we operate independently from subcontractors and intermediaries. Comprehensive service allows us to offer the lowest price with high quality and short times of realization.
 .
Our staff in different departments are responsible for:
project of the hall (static analysis, technical drwaings)
production of steel structure (welding plant)
production of PVC sheating (line for welding PVC materials with large dimensions)
construction works (leveling of land, foundations, installations)
"turnkey" assembly
The lightweight structure of an arched hall / industrial tent allows us to reduce costs of production, transport and assembly. The covering of tennis courts and football fields are refined in every detail. Our tarpaulin halls are durable, solid, functional and esthetic.
We design all facilities according to local standards. All our buildings are resistant to extreme loads produced from wind and snow.
As the membrane material (tarpaulin) we use a polyester fiber mesh coated on both sides with an elastic PVC material. Such kind of material provides the required strenght and tightness despite its minimal weight (650g/m²).
For each hall it's possible to install skylights made of a transparent PVC material or to make the whole (or a part of it) coating of a translucent material, which transmits the light up to 40%. Such arrangement provides ideal illumination of the hall during the day without the need for using any artificial light.
Interested customers are invited to visit our finished works – arched halls over tennis courts and halls over football fields.